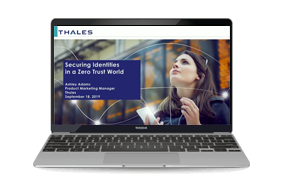 Identities Are the New Security Perimeter in a Zero Trust World - Webinar
In a recent Thales survey, two thirds of CISOs cited the increase in cloud service adoption, combined with a lack of strong security solutions, as the main reasons cloud services are the prime targets of attack. As organizations undergo digital and cloud transformation, CISOs and security officers are operating in a high stress environment caused by security, compliance and manageability challenges.
In this presentation we'll discuss how identities are becoming the new security perimeter in a zero trust world and present best practices for implementing an access management framework that can help organizations remain secure – and scale – in distributed networking environments.
Watch On Demand