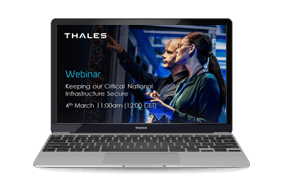 Keeping our Critical National Infrastructures Secure - Webinar
As our critical infrastructure becomes more connected, it exposes legacy technologies to the outside world; leaving some vital systems open to exploitation. In recent years, we have seen an increasing number of attacks on critical infrastructure. Governments and industry regulators around the world are now focusing beyond physical perimeter protection to ensure the integrity of the systems used to control our critical infrastructure.

Join us to explore how encryption is a key element in ensuring the security of SCADA networks and how it needs to deliver against four criteria: Speed, Scalability, Manageability and Affordability to be most effective. We will look at traditional SCADA network provision, the evolving need to secure IoT connected devices, identify network vulnerabilities and discover the benefits of High-Assurance and Network Independent Encryption.
Date: Thursday, March 4
Time: 11:00 AM GMT
Watch Now