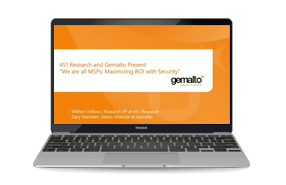 451 Research and Thales present "MSPs - Maximizing ROI with Security" - Webinar
Digital transformation is a critical part of an enterprise business strategy. However, for many organizations, having more digital assets introduces major headaches due to the complexity of technologies, the lack of available and affordable skills and the ever-changing security threat landscape. The ability to use cloud based solutions to service digital strategies is helping reduce costs but is also increasing risks, isolating data and reducing controls.
Many MSPs have recognized this as an opportunity and are building business plans and service strategies to help their customers. Being the one-stop shop for applications, cloud services and related security aspects is a path that is actively being trodden by MSP's, MSSP's and traditional resellers alike. According to 451 Research, it is about a "sell with" approach by addressing business requirements with security "built-in". In this joint webinar, our guest William Fellows, 451 Research analyst will provide new research results this related data points and discuss how the cloud is creating opportunities as well as challenges. The interactive Q&A style webinar will cover:
A current view of the cloud's impact on digital transformation
Opportunities for MSPs to expand service portfolios and generate new revenue streams
What a true "sell with" partnership looks like
Technology enabling this new sales and marketing strategy for MSPs
Presenters:
William Fellows is a co-founder of The 451 Group. As VP of Research, he is responsible for the Cloud Transformation Channel at 451 Research.
Gary Marsden: Senior Director of Partnerships at Thales
Watch On Demand