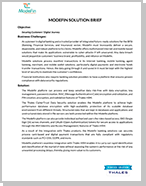 Modefin Platform - Solution Brief
The Modefin platform can process and keep sensitive data risk-free with data encryption, key management, password creation, MAC (Message Authentication Code) encryption and validation, and PIN creation, encryption, and validation features of Thales HSM.
The Thales CipherTrust Data Security solution enables the Modefin platform to achieve high-performance database encryption with high-availability protection of its scalable database environment from different threats. Structured data that are kept in databases and applications and unstructured data stored in file servers are both protected within the Modefin platform.
Download