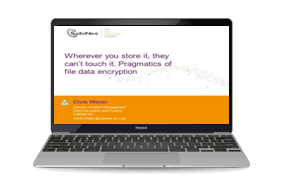 Wherever you store it, they can't touch it. Pragmatics of file data encryption - Webinar
Whether you are looking for a trusted storage and archive security solution for migration to a multi-tenanted environment or for compliance and IP protection, file data can be encrypted in many locations and in many ways during its flight from first creation to its resting place in storage.
The cost of dealing with a data breach vastly outweighs the costs of deploying encryption technology, but each encryption method or physical location has advantages and disadvantages and protects in different ways against potential threats.
These pros and cons are dependent on currently deployed infrastructure, compliance demands, sensitivity of data, vulnerability to threats, and staffing, plus the added complication of management by different operational and IT department groups.
Join your fellow professionals to understand how to identify the most cost effective storage location and understand how that meets the needs of the organization while at the same time introducing as little operational management overhead as possible.
Result. Fast, Transparent, Cost-Effective Protection for File Data in Storage
Watch On Demand