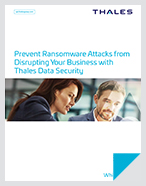 Prevent Ransomware Attacks from Disrupting Your Business with Thales Data Security - White Paper
Ransomware attacks have been on the rise lately. 2019 alone has seen a 41% increase over the previous year. Cybersecurity Ventures predicts that a business will fall victim to a ransomware attack every 11 seconds, and the estimated cost to businesses will be around $20 billion by 2021. Baseline security best practices such as security awareness training, applying latest security patches, deploying email/web security gateways and DNS countermeasures are not enough to detect and prevent ransomware attacks.
This whitepaper helps you understand the anatomy of ransomware attacks and explores the solutions available in the market today to defend against such attacks. It illustrates how security policies in Vormetric Transparent Encryption from Thales enable you to prevent rogue processes and unauthorized users from encrypting your most sensitive data and thereby protects you from ransomware attacks.