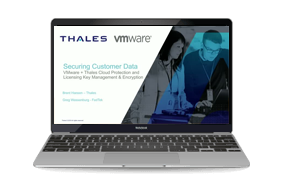 Safeguarding Sensitive and Compliance Data in VMware with Thales - Webinar
Many government customers have now realized file-level access control, encryption, and key management are substantial gaps in their cybersecurity architecture and are actively searching for solutions to mitigate this risk.
Join this webinar to learn how Thales and VMware can help you secure your hyper-converged data. VMware has partnered with the industry leader in access control encryption and key management solutions to allow its customers to secure data and centralize keys on their hyper-converged platform.
Thales' Vormetric Data Security Manager provides FIPS-certified, robust key management and role separation to meet most security requirements. The non-disruptive encryption solution provides comprehensive, cost-effective data security for companies that have stringent data protection regulations covering the management of personally identifiable information (PII) and other sensitive information.