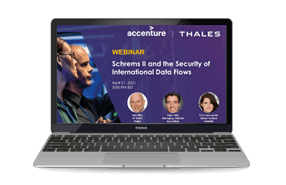 Schrems II and the Security of International Data Flows - Webinar
In July of 2020 the Court of Justice of the European Union issued the Schrems II decision in the case Data Protection Commission v. Facebook Ireland. That decision invalidated the EU-U.S. Privacy Shield Framework, on which more than 5,000 U.S. companies rely to conduct transatlantic data flows in compliance with EU data protection rules. The Schrems II decision not only impacts EU-U.S. data transfers, but also affects data transfers of EU data across the world. However, the level of the impact depends on the geography and the strategic privacy planning they have done to maintain compliance with GDPR.

In this webinar, the panel will discuss data transfers in a post-Schrems II and post-Brexit era and examine how the current rules and regulations for securing information and maintaining privacy will impact organizations that rely on global access to data. The panelists will address the organizational and technical measures organizations can adopt, including encryption and key management, to ensure GDPR level compliance for data moved out of the EU. In addition, this webinar will discuss how the work and lifestyle changes brought about by COVID-19 will affect the regulations that organizations need to plan for.
Date: Wednesday, April 21
Time: 3:00 PM BST
Watch the Webinar