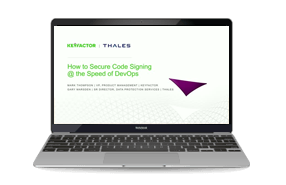 How to Secure Code Signing at the Speed of DevOps - Webinar
When you sign a piece of code, you make a statement that it comes from your trusted brand and that you stand behind it. But what happens when that trust is broken? Recent attacks, such as the ASUS Live Update hack, underscore the importance of managing reputational risk.
As attackers become increasingly skilled in the art of signing and spreading malware, all business leaders must invest in the trust associated with their digital brand – and expect the same of their vendors. The challenge is how to secure code signing keys and certificates in today's distributed and fast-paced DevOps environments.
Join our experts as they discuss:
Code Signing: What is it? Why does it matter?
Recent Attacks: The Risks and Challenges of Code Signing
How to Secure Code Signing at the Speed of DevOps
How Thales and Keyfactor Make It Possible
Watch On Demand