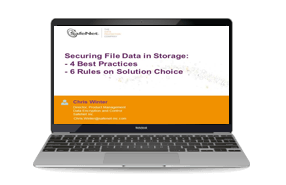 Securing File Data in Storage: 4 Best Practices. 6 Rules on Solution Choice - Webinar
File data can be encrypted in many places and in many ways during its flight from first creation to its resting place in storage. Each method or location has advantages and disadvantages and protects in different ways against potential threats (or sometimes not at all).
Join your fellow professionals to understand the pros and cons of many of those common locations and methods in the context of what types of threats need to be protected against. The various options will be contrasted against a standard set of comparisons to simplify the decision making process for those selecting encryption solutions for their critical file data.
Watch On Demand