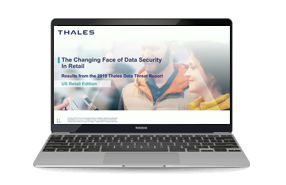 The State of Data Security in Retail - Webinar
Digital transformation is fundamentally impacting all industries, and nowhere is this truer than in retail. The internet and mobile technologies have fundamentally changed retailers' business models, not only by opening new channels to reach customers, but also how they communicate with, serve, and support them.
While digital transformation is touching every industry, U.S. retailers are leaders are on the leading edge of implementations, with 42% of retailers saying they are either aggressively disrupting the markets in which they participate or embedding digital capabilities that enable greater organizational agility. While Digital Transformation is allowing retailers to introduce new business models and reach more customers in new and innovative ways, it is introducing added difficulties for information security professionals and raises the potential to put sensitive customer data at risk.
Based on the results from the 2019 Thales Data Threat Report – Retail Edition, participants in this webinar can expect to learn about:
How the adoption of digital transformation technologies, and especially cloud, is putting sensitive data at greater risk
The data security challenges facing retail companies today
Critical analyst recommendations for how organizations can be most effective when selecting the right tools that will enable them to manage greater amounts of complexity, that span legacy on-premises needs as well as modern, cloud-based, edge-oriented technologies.
Watch On Demand