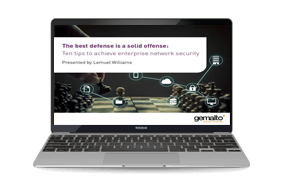 Ten Tips to Achieve Enterprise Network Security - Webinar
IT security risks are changing, and undoubtingly increasing in complexity and frequency. Enterprises across the globe are struggling to not only keep up, but to maintain a secure network environment. From a recent breach by hackers to gain sensitive information of more than 100,000 taxpayers, to the breach of 110 million consumer records, the cyber threat landscape is getting worse every year. Hackers are faster, and organizations are taking longer to discover the breaches, giving thieves hours, days, and even weeks to explore the most private and sensitive company data.
Thales has identified key steps to help secure your enterprise network, certainly one of the first areas fraudsters attempt to infiltrate.
Join us on September 28th for an informative presentation that will help you plan a strategy to protect your most critical assets.
Watch On Demand