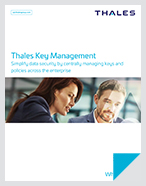 Key Management – Simplify Data Security - White Paper
Today, every IT organization is striving to protect valuable digital assets of any enterprise from accidental exposure or intentional misuse by cyber criminals. Many organizations have deployed a variety of point encryption solutions as a primary method of protecting sensitive data to meet various digital privacy regulations and compliance mandates. Unfortunately, the majority of these disparate encryption solutions have fallen short in their ability to address their enterprise key management challenges.
This white paper looks back at the evolution of encryption and key management systems, and examines the key challenges faced by IT teams around encryption systems, including regulation and compliance, complexity, lack of proper management tools. This is followed by a review of the recent industry initiatives and compliance regulations that are shaping the future of key management.
The paper concludes with an introduction to CipherTrust Key Management, the next generation enterprise key management offering from Thales, which provides a powerful integrated solution that enables organizations to centrally manage encryption key lifecycle and policies for Thales Data Protection Connectors and third-party KMIP compliant products in the enterprise.