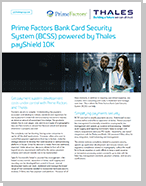 Prime Factors Bank Card Security System (BCSS) powered by Thales payShield 10K - Solution Brief
BCSS was built to simplify payments security. Role-based access controls define and enforce separation of duties. Robust payment key management functionality streamlines cryptographic key management and speeds up issuance and processing. Detailed audit logging and reporting functionality helps to comply with industry requirements and pass PCI audits. Importantly, pre-tested integrations with the Thales payShield 10K payment HSMs allow for easy integration, load-balancing and management.
BCSS works exclusively with Thales payShield HSM technology to meet the latest logical security requirements of the leading payment brands including American Express, Discover, JCB, Mastercard, UnionPay and Visa. With Prime Factors BCSS and Thales payShield HSM technology, payment card issuers, personalization bureaus, and payment processors can get to market faster and respond more quickly to change, whether it's new security requirements or new card applications supported by the HSM firmware.
Download