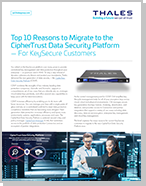 Top 10 Reasons to Migrate to the CipherTrust Data Security Platform For KeySecure Customers - Data Sheet
The KeySecure platform provided centralized key management and data protection throughout your enterprise–on premises and in AWS. Now, Thales offers CipherTrust Data Security Platform (CDSP) to enable you to manage native keys painlessly and do more with fewer resources – and across all the major public and private clouds.
With CDSP, you can manage your keys with a single pane of glass and rely on a centralized audit trail to meet data protection compliance mandates that are becoming more stringent. CDSP increases efficiency and spans more environments, systems, applications, processes and users to give you next generation data protection.
Download