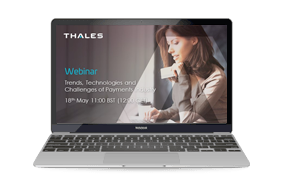 Trends, Technologies and Challenges of Payments Industry - Webinar
The payments industry is undergoing intense transformation caused by customer demands, technology advancements, globalization, disintermediation by new entrants, and increasing regulatory requirements. On top of this, fraud by cyber criminals continues to evolve with attacks becoming increasingly sophisticated.
Join this webinar where will discuss evolving trends, technologies and regulations affecting the payments industry and how Thales can help meet these challenges.
Date: Tuesday, May 18th
Time: 11:00 BST (12:00 CET)
Watch the Webinar