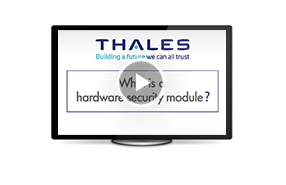 What is a Hardware Security Module? - Video
A hardware security module is a dedicated crypto processor, designed to protect the crypto key lifecycle, validated for security by third parties (FIPS 140-2, Common Criteria, PCI HSM, FIPS 201). 
A hardware security module is a trust anchor. A trust anchor that protects the services we use every day. Things like SSL, DNS, banking and websites. Mobile devices. Smart meters. IoT devices. National identity cards. Credit card data and PINs. Mobile payments. Digital documents. Passports. Blockchain. 5G networks.
And so much more. Hardware security modules typically are hardware-based or cloud-based. HSMs ensure compliance. Simplify audits. Improve performance. Securely generate and store keys. 
Hardware security modules are trusted by the most security-conscious companies, agencies, banks, and service providers in the world. 
Thales Hardware Security Modules are the Foundation of Digital Trust.