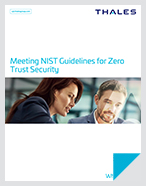 Meeting NIST Guidelines for Zero Trust Security - White Paper
Digital transformation, the proliferation of disruptive technologies and emerging trends such as 'work from home' have made the digital boundaries of corporates disappear.
Zero Trust security schemes can help organizations overcome the limitations of legacy perimeter security solutions by ensuring that applications, data and identities are secure wherever they are located.
Access this white paper to understand how NIST's recommendations and guidelines for implementing Zero Trust security can help you secure apps and data in your organization.