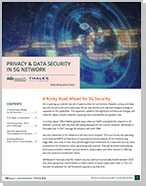 Privacy & Data Security in 5G Networks - White Paper
5G is opening up a whole new set of opportunities for connectivity. However, privacy and data security concerns are set to play a key role as new vendors and new technologies emerge to capitalize on 5G capabilities. This expansion, added to the significant architectural changes, will make for highly complex networks, exposing new vulnerabilities and greater risks.
ABI Research recommends that Data-Centric 5G security solutions need to deliver end-to-end encryption and authentication to help organizations protect sensitive data from users and IoT, to radio access, to the edge, in the core network and data stores, including containers.