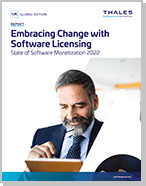 The State of Software Monetization 2022 - Report
Software delivery methods have changed significantly over time. Today, software-as-a-service (SaaS) is considered to be the most popular way for independent software (ISV) and intelligent device (IDV) vendors to deliver software. There are many advantages associated with SaaS products. The primary advantage associated with SaaS is the ability to offer subscription options to customers demanding more flexible licensing options.
In addition to a move to the cloud, the delivery of software through a hybrid approach is also gaining in popularity. A hybrid approach offers a best-of-both-worlds solution for organizations that see benefits to offering on-premises products that provide some of the benefits of SaaS. Throughout this report, hybrid licensing is defined as licensing of an application that is typically installed on-premises but includes a dependency on a cloud component or service. This ensures the availability of near-to-full-time connectivity, which allows SaaS concepts such as real-time usage tracking and dynamic updates and renewals to be incorporated to on-premises applications.
Download the report to learn:
What percentage of companies believe they are having lost revenue opportunities due to customers knowingly misusing their software.
The clear advantage for vendors leveraging software monetization and entitlement management to drive growth.
How ISV's and vendors should implement a strategy to minimize risks and maximize their ability to meet their customer needs.
What percentage of ISV's and IDV's are delivering their software as a service in the cloud versus 2014.
Get the report to discover how to minimize major growth barriers, gain increased operational advantage and revenue, and ensure a greater number of happy and committed customers today!