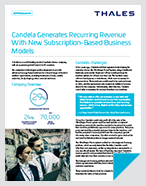 Subscription Models - Candela Case Study
Generate New Recurring Revenue with Subscription-Based Models like Candela - Case Study
Candela Generates Recurring Revenue With New Subscription-Based Business Models
Candela is a world-leading medical aesthetic device company, with an expansive global footprint in 86 countries.
The company's technologies enable physicians to provide advanced energy-based solutions for a broad range of medical aesthetic applications, including treatments of scars, wrinkle reduction, body shaping, tattoo removal and more.
A few years ago, Candela sold their signature body-shaping fat reduction device, the UltraShape Power® system, using a traditional hardware sales model: Physicians' offices would purchase the machine upfront, for a fixed, one-time cost. The machine came with two handpieces, or transducers, which were necessary for the procedures. The transducers would need to be replaced every so often, and the replacement sale created an additional revenue stream for the company. Unfortunately, other than that, Candela wasn't able to maximize the revenue from their own machines. They knew they needed to create a recurring revenue stream.
Challenges for Candela's Subscription Model:
Recurring revenue model to monetize their machines
Homegrown licensing platform limited Candela's flexibility
Long delays in customer delivery
Discover how you can:
Increase its revenues by maximizing a software licensing solution with flexible licensing and creating a recurring revenue stream.
Switching from a homegrown system to a more centralized software monetization solution maximized the value of its products.
Improve business insights and switch from a purely hardware-based business into one that relies on software as well as hardware.
Migrate from hardware-based to a digitized working environment that also included software.  Get the case study to learn from Candela's migration.
Download