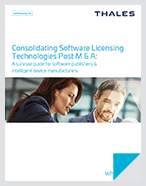 Consolidate Software Licensing Technologies to Reduce Costs - White Paper
Consolidating Software Licensing Technologies Post M & A
Given the tough competition software vendors and intelligent device manufacturers face, it's no surprise that these organizations depend on creating innovative products and services to grow their businesses.  This is a good approach, but over time, using only this approach could limit growth. Depending solely on its own product and service development means a company can only be as successful as its latest product launch.
When unifying software licensing technologies a company can choose to stand pat, build their own management system, or have a more centralized solution with strong encryption with flexibility.  
Download the report to learn:
What are the 3 options for consolidating licensing technologies?
How a centralized license and entitlement management system benefits a company.
How much can a company save when consolidating software licensing technologies?