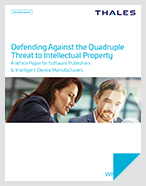 Defend and Protect Intellectual Property Against Threats
Defending Against The Quadruple Threat to Intellectual Property - White Paper
Technology and innovation have never moved faster and most of it involved software in form or another.  Learn how Thales can help you protect against the quadruple threat of intellectual property with its commercial monetization products to protect their intellectual property investments and increase revenue.
Whether intentional or not, a vast amount of intellectual property and revenue is lost to software piracy every year.  This money could be potentially revinvested into research and development and improve software programs.
Another threat to defend against is the the grey market.  This market is an unintended consequence by the original manufacturer.  In some instances profits and revenues can be affected by up to 25%.  In another survey 84% of respondents worried their software would be compromised and another 81% believed reverse engineering and theft is costing them revenue.
Download the report to learn:
What are the 4 threats to revenue?
What is software piracy and how much does it cost companies?
How does reverse engineering cost your company money?
How to protect against all 4 of the major threats?