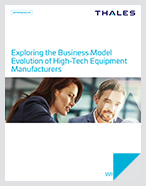 Hardware Manufacturers Are Evolving with Software-Based Licensing Solutions
Exploring the Business Model Evolution of High Tech Equipment Manufacturers - White Paper
This paper discusses some of the challenges faced by today's high-tech equipment manufacturers and goes further to uncover the evolution that has been taking place over a number of years.  Modern high-tech equipment manufacturers are transitioning from what was once a pure hardware-based business model to a software-based business model.
Certain barriers that once existed no longer exist in today's climate such as stealing IP making to harder for businesses to make a profit.  
As you begin incorporating more advantages into your software and investment increases you will want to gain more customers, maximize profit, keep your competitive advantages, and makes these advantages last as long as possible.
Download the report to learn:
What are the 6 phases of business when shifting from hardware and equipment vendor to software?
What are some traditional solutions to handle the shift from hardware to software?
How to be more cost effective when expanding product lines?