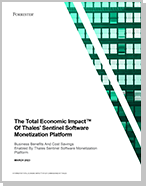 Forrester Consulting Study: Total Economic Impact™ (TEI) Of Thales' Sentinel Software Monetization Platform
Cost savings and business benefits of the Thales Software Monetization Sentinel Platform were revealed in the Thales-commissioned Forrester Consulting Total Economic Impact™ (TEI) study, based on a four-customer composite. The study reported, for example, a payback period of one year, and a 301% ROI over five years.

Read more. Download the full study.