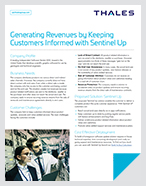 Generating Revenues by Keeping Customers Informed with Sentinel Up - Case Study
Discover how a leading Independent Software Vendor ISV that develops graphic software for use by geologists and technical engineers generated revenues and kept customers informed with Sentinel UP.
The company distributes products via various direct and indirect sales channels. However, the company currently does not have direct contact with end users. Even when a direct sale is made, the company only has access to the customer purchasing contact and not the end user. This situation creates lost revenues because
product related notifications are sent to the distributor, reseller or the purchaser and often does not reach the actual end user. The company seeks to ensure recurring revenue streams from the sale of renewals and maintenance agreements directly to end-users.
Challenges of keeping customers informed:
Lack of direct contact, emails were getting lost
End-user was never aware of any new software releases
Needed revenue protection
Discover how you can:
Reach actual end-users via in-app notifications
Keep customers informed and up to date with regular service packs
Promote value-added support services
Learn how a leading Independent Software Vendor reached actual end users, kept customers informed, and promoted value added services while increasing revenue.  Get the case study to learn how Sentinel Up helped solve all these issues.
Download