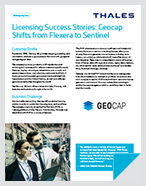 Geocap Switched to Sentinel Software Licensing – Should You? - Case Study
Geocap Licensing Success Stories
When they evaluated Thales Sentinel to replace Flexera, Geocap found that Thales Sentinel solutions offered a complete set of utilities and variety of beneficial features, backed by exceptional support.
Like most software vendors, Geocap AS needed a licensing solution in order to control their licensing terms and conditions. The company originally chose FlexNet Publisher (FNP), a licensing platform sold by Flexera. Unfortunately, Geocap was dissatisfied with FNP for a variety of reasons
Geocap also felt that FNP lacked intuitive server management tools which made server connection problems at customer sites more complex to resolve. FNP lacked utilities to automate license generation and renewal. Geocap realized that switching to another license management solution could help them to better meet their needs.
Download the report to learn:
Why Geocap chose Thales over a competitor?
How outstanding support played into Geocap's decision.
How a flexible software licensing system allowed for software and hardware based licenses to fulfill all of Geocap's requirements.
Download