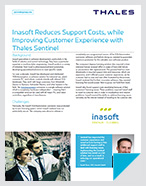 Reduce Costs and Improve Customer Experience with Software Licensing like Inasoft - Case Study
Inasoft Reduces Operations Costs, while Improving Customer Experience with Thales Sentinel
Inasoft works in a variety of industries from food to pharmaceutical and automotive, developing specialized solutions to meet specific needs. See how Inasoft used Thales Sentinel to reduce operational costs and improved customer experience.
Previously, the Inasoft SQL4automation connector was protected by its own licensing system, which Inasoft realized was not particularly secure. The company was about to release a completely new programmed version of the SQL4automation connector software and before doing so, needed to guarantee maximum protection for this valuable new software product.
Inasoft also found support costs escalating because of their customers' licensing issues. These problems required Inasoft staff to travel to customer sites in order to troubleshoot and resolve problems. Inasoft wanted the ability to address licensing issues remotely via the internet instead of traveling to the customer site.
Download the report to learn:
How did Inasoft become more responsive to its customer needs through secure and flexible licensing?
How did Inasoft move to cloud licensing so easily?
How did cloud licensing reduce operational costs for Inasoft?
Download