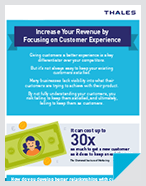 Increase your software licensing revenues with better CX - Infographic
Increase Your Revenue by Focusing on Customer Experience
To gain a competitive edge, deliver a superior customer experience. See how understanding your customers can help you improve.
Giving customers a better experience is a key differentiator over your competitors. But it's not always easy to keep your existing customers satisfied. Many businesses lack visibility into what their customers are trying to achieve with their product. By not fully understanding your customers, you risk failing to keep them satisfied, and ultimately, failing to keep them as customers
Today, software licensing solutions do more than just control access and permissions for your software. They can provide an invaluable source of information to help you keep your customers happy and keep them coming back.
Download the infographic to learn:
What it costs to get a new customer versus keeping an existing one.
How to develop a stronger relationship with your customers.
What a 5% customer retention can lead to a 75% more profit.
How software licensing helps you understand customers better.
Download