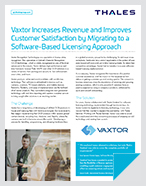 Vaxtor Increases Revenue and Improves Customer Satisfaction by Migrating to a Software-Based Licensing Approach - Case Study
Vaxtor Recognition Technologies are specialists in license plate recognition. They specialize in Optical Character Recognition (OCR) technology, which is widely recognized as one of the most advanced in the industry. Vaxtor delivers high-performance real-time Automatic License Plate (ALPR) and other OCR solutions to a variety of sectors, from parking and  security to law enforcement, smart cities, and more.
Vaxtor products solve real-world problems with world-class technology. Their software is embedded in devices such as cameras, scanners, PC-based platforms, and mobile devices.  Reliability, flexibility, and ease of implementation are the hallmark of all Vaxtor products. They successfully integrate next-generation technology with real-time reporting and superior customer service to bring sought-after solutions to an evolving market.
Discover how Vaxtor:
Migrated quickly to software licensing from hardware keys
Improved revenue in the process of migrating to software-based licensing
Managed to maintain its flexibility while using software-based and hardware keys
Download