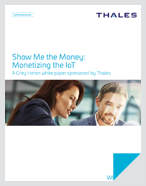 Monetizing the IoT with Innovative Business Models - White Paper
Show Me the Money: Monetizing the IoT
The Internet of Things (IoT) is disrupting entire industries around the world.  There is a lot of "new" - including devices, software, services - along with new opportunities for your business revenues to grow - or shrink. This paper presents an overview of the forces driving the IoT, the 10 major markets being disrupted, and the importance of ecosystems and partners in the monetizing the IoT.
It also explains the critical need to innovate business models - not just products - and highlights new ways for hardware and software vendors to maximize the monetization of their IoT investments.
Download the full paper to learn:
How to monetize the IoT (Internet of Things)?
What are some challenges monetizing the IoT?
What are the 10 sectors spearheading the monetization of Iot?