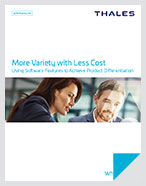 Software Monetization Solutions Help Achieve Product Differentiation- White Paper
More Variety with Less Cost: Using Software Features to Achieve Product Differentiation 
Is it possible to increase product variety and lower production costs at the same time? Product differentiation based solely on software modules or features makes this possible. What's more, these dedicated features don't need to be unlocked until the systems and machinery are installed on the customer's premises. This increases flexibility, reduces the number of hardware variants to be manufactured, and transfers the decoupling point in the manufacturing value chain to the customer.
The devices today used by consumers are cloud connected, controlled and monitored by apps and other mobile devices.  However the devices used today are also more software oriented and consumers have shifted their stance on choosing, using, and paying for devices and software. 
This has created one of the most famous terms in the embedded industry: Digital Transformation. An increasing number of device manufacturers have been shifting their focus away from hardware development and are investing more and more into software development. Software has now become the intellectual property for many device manufacturers.
Download the report to learn:
Why manufacturing has changed and keeping thousands of products in stock is no longer financially feasible.
Why a powerful licensing management solution is needed to put a chokehold on piracy.
How flexible licensing leads to and provides valuable customer usage insights.