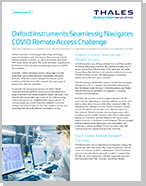 Agile Licenses help Oxford Instruments - Case Study
Oxford Instruments Seamlessly Navigates COVID Remote Access Challenge with Agile Licensing:
Oxford Instruments is a leading provider of high technology research instruments, tools, and services. Their customers include leading academic institutions, as well as government and private R&D centers across the globe. They pride themselves on pushing the boundaries of what's possible and enabling momentous scientific advancements.
Generally, Oxford Instruments creates cutting-edge tools that researchers use to collect previously inaccessible information and data. When the company realized that software would revolutionize the field of scientific research, they were eager to expand their software capabilities.
Challenges for Oxford Instruments without agile licensing
Expand software capability
A reliable way to expand software sales
Protection of intellectual property
Have a remote workforce
Discover how you can:
Increase revenue with software sales
Expand software capabilities and improve customer satisfaction
Expand your business with a free trial capability
Enable your remote workforce
Migrate to an easier software licensing solution while expanding sales and helping customers save. Get the case study today to learn more about Oxford Instruments' successful software licensing migration.
Download