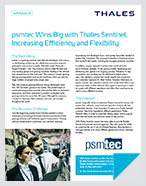 Increase Efficiency Flexible Licensing in Embedded Devices - psmtec Case Study
Increase Efficiency and Flexibility in Embedded Devices like psmtec - Case Study
psmtec is a gaming machine and software developer, with a focus on developing, producing, and distributing innovative, premium gaming for casinos and arcades. With their motto "Personal –Target-Oriented – Fair," the company aims to make the best and most exciting games and gaming machines, leading to the ultimate play experiences for their end-users. The company creates gaming devices and equipment such as slot machines, which are used by large numbers of people every single year.
Psmtec had some challenges such as protecting its intellectual property and hardware against manipulation.  Gaming software development is extremely cost-intensive, requiring engineering and developer hours, and psmtec knew they needed to protect their investment. The company looked for a licensing solution that would fit their needs, including the strongest protection possible.  In addition, psmrec required a solution that would allow for quick and easy updates. "In the gaming market, developing and distributing new games is an ongoing process. Therefore, to stay competitive, new updates must be distributed multiple times a year.  We needed a solution that would simplify that process for our customers," explains Mr. Peter Schmid, Business Informatics at psmtec
Challenges for implementing Flexible Licensing:
Needed flexible licensing to protect gaming software as well as hardware against manipulation
Required quick and easy software updates to be done multiple times a year
Compliance for different international countries
Discover how you can:
Protect hardware and software in the gaming industry
Comply with regulations across many different countries with a software licensing solution?
Automate your products seamlessly several times a year
Explore how psmTec migrated to an easier flexible licensing solution and improved security.  Get the case study to learn from psmtec's flexible software licensing transition.
Download