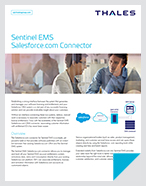 Sentinel EMS SalesForce.com Connector - Product Brief
The Salesforce.com connector for Sentinel EMS is a simple, yet powerful add-on that provides software publishers with an instant link between their existing Salesforce.com CRM and the Sentinel
EMS system.
The Sentinel EMS Salesforce.com connector allows you to manage and track all your Sentinel EMS account entitlements content, activations data, status, and consumption directly from your existing Salesforce.com platform. ISV's can associate entitlements, licenses and activation information with Salesforce.com accounts ascustomized objects.
Download