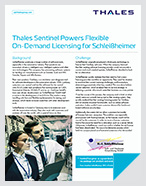 Flexible On-Demand Licensing - Schleißheimer Case Study
Thales Sentinel Powers Flexible On-Demand Licensing for Schleißheimer - Case Study
Schleißheimer produces a large number of software tools, especially in the automotive industry. Their products are innovation drivers in intelligent cars, intelligent systems, and other new technologies. The company has pioneering software systems for leading car manufacturers such as Daimler, Audi and VW, Porsche, Toyota, and Alfa Romeo.
Schleißheimer is based in Germany due to its extensive work with the automotive industry. They also work with customers and partners all over the world, with a special focus on Asia.
Challenges for Flexible On-Demand Licensing:
Needed to update its software
Couldn't meet customer demand for hardware-based software security keys
Allowing transfer of licenses for customers between computers.
Discover how you can:
Achieve flexible on-demand licensing
Help customers save money by simplifying business process
Have on-premise versions as well as on-demand flexible software licensing
Migrate to a more robust software licensing solution, and help customers save money.  Get the case study to discover more about Schleißheimer's successful software migration.
Download