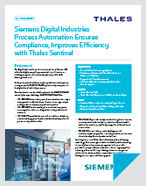 Digitize Industrial Processes to Improve Efficiency - Siemens Case Study
Siemens Digital Industries Process Automation Ensures Compliance, Improves Efficiency with Thales Sentinel - Case Study
The Digital Industries Process Automation division of Siemens AG sells to the highly-competitive process industry, with customers including companies in the chemical, pharma, and food & beverage businesses.
As the primary interface between plant production and corporate management, the SIMATIC WinCC system is a key component in the digitization of industrial processes
Challenges for Digitizing Industrial Processes:
Secure and flexible licensing
Hardware, software, and cloud-based licensing
Support for virtual environments
Remote updates
Discover how you can:
Increase revenues for new and existing customers
Ease your support burden with streamlined operations
Reduce operational costs
Migrate to an easier software licensing solution, increase revenues and reduce operational costs.  Get the case study to learn how Siemens digitized its industrial processes today!
Download