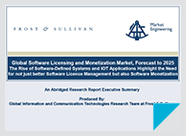 Frost & Sullivan Software Licensing Trends Through 2025 - Report
Why does Sentinel dominate the software licensing world?
"The need to optimize…through Software Licensing & Monetization solutions has become business critical."
- Frost & Sullivan
Trends and Predictions for the Software Licensing Market Through 2025
Download the report to learn:
What are the key factors propelling companies away from homegrown software licensing?
What makes commercial licensing solutions so effective?
Which industries are being transformed by advances in the licensing space?