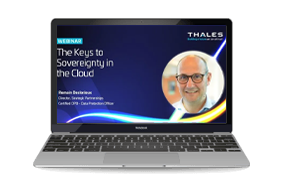 The Keys to Sovereignty in the Cloud - Webinar
The World Economic Forum estimates that over 92% of all data in the western world is stored on servers owned by very few US-based companies. This concentration creates a situation of high dependence, and a challenge for business resilience. Digital sovereignty has become an important topic for many nation states, and new regulations are emerging to manage these risks. In this webinar we will cover:
Digital sovereignty challenges between the EU's GDPR and the US Cloud Act and FISA since the Schrems II decision.
The emerging sovereignty regulations such as GAIX-X, DORA, France's "Trusted Cloud", Australia, and others.
The impact of sovereignty on cloud deployment risk and governance.
Strategies to maintain data, operational, and software sovereignty.
How sovereign controls leveraging encryption and key management can protect privacy and sovereignty in the cloud.
Join us learn more about how to overcome digital sovereignty challenges in the cloud.
Register now