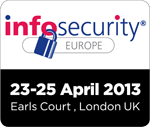 For the past several weeks our mini blog series has been building up to this moment (drum roll, please) – the start of Infosecurity Europe 2013! With the show opening its doors today, I wanted to share with you a flavour of what will be going on at Vormetric's booth (#M65).
In previous posts, we covered the subjects I felt would be the key talking points at the show – Big Data, the changing face of legislation, APTs – all topics we're prepared to discuss with you at our booth. With a central theme of "Protect What Matters," we'll be streaming videos that highlight the changing security landscape and rising security challenges such as data protection in the cloud. We'll also be on hand to discuss your data security challenges and some interesting solutions to those challenges. In fact, you'll have the opportunity to meet with some of Vormetric's key personnel, including Sol Cates, our chief security officer, Andy Kicklighter our director of product marketing and me (of course!).
A stop by our booth won't just be educational though – it might also result in you walking away with an iPad Mini or a Bose Soundlink Bluetooth Mobile Speaker. One of each will be given away each day of the show so make sure you stop by if you want to be in with a chance to win!
Having attended Infosecurity for a number of years now (more than I care to remember), I'm sure that this year, like others, will really deliver in terms of showcasing the innovation inherent in the security industry, as well as highlighting the challenges organisations will face in the coming months and years.
Whatever your reasons for attending #Infosec13, we look forward to seeing you here to discuss how we can help you protect what matters!