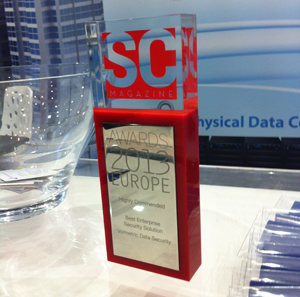 Well, readers – that's it – Infosecurity has come and gone in barely the blink of an eye. Looking back over the past few weeks we've been talking here about the topics that we felt would form a large focus at Infosec – from securing the supply chain and APTs, to challenges around securing Big Data and meeting demands of new legislation.
Although these topics all featured at the show, it's interesting that a lot of the questions that visitors came to us with were simply around technologies for securing data in the cloud.
Rather than looking for solutions to help tick a box that says they are compliant, customers are instead asking for ways to put better technology controls in place around the data. It's very encouraging to see the approach to data security maturing in this way. This thinking still results in a strategy that enables compliance, but focusing on the data itself is a more effective way to secure valuable data.
This was actually mirrored in a global survey we announced during Infosec. More than half of the respondents named specific IT security challenges, like defending against data breaches or securing cloud or Big Data, as their primary security driver, ahead of other drivers like compliance.
Another topic that came up in my talks with visitors was privileged user controls. Database administrators really don't need to be able to read all the data that sits in the accounts they manage. These roles have been shown to be choice targets in cyber attacks, and customers are telling us that they need to find a way of making sure that privileged users don't open up a door into their organisations.
My own particular highlight (although I'm obviously going to be a little bit biased) is that at the annual SC Magazine Europe Awards, Vormetric was awarded the highly commended honour in the 'Best Enterprise Security Solution' category –you may have seen the award taking a place of pride on our stand.
I hope you've found our #Infosec13 posts interesting and useful as you look to protect what matters in your organisation. If there are any topics that you'd like to ask us about or if you'd like to discuss your own particular security challenges, please get in touch. We'd be more than delighted to help.