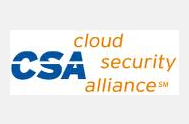 The fourth Cloud Security Alliance (CSA) Congress kicks off in Orlando, FL tomorrow (Tuesday, December 3) and Vormetric will be there in force.  It promises to be a great event with 60 presentations and workshops on topics including the security of U.S. cloud providers, compliance, policy, mobile and big data. Vormetric will also be demonstrating our Vormetric Data Firewall solution with highlights around cloud deployments.
Although cloud security remains one of the largest concerns in moving production or sensitive workloads into the cloud, as CSA wonderfully summarized in "The Notorious Nine," the top nine cloud computing threats for 2013, it certainly has not appeared to hinder cloud adoption.  What it has motivated is innovative solutions to protect, control and monitor data in the cloud.   In fact, very recently Gartner put out a press release stating that the cloud-based security services market will reach $2.1 billion in 2013 and rise to $3.1 billion in 2015.  The requirement for cloud security and encryption has certainly been a strong contributor to Vormetric's continued strong growth.
With that said, it is no wonder that cloud security is a hot topic and CSA events around the world have been selling out.  A few highlights that I am looking forward to at the CSA Congress are:
Bob Flores, former CTO of the Central Intelligence Agency (CIA) will participate in a 'Fireside Chat' keynote. He will discuss the importance of highly resilient public clouds for the most demanding and security-sensitive organizations. He will discuss the challenges to protecting sensitive information while achieving organizational agility with information technology strategies, and formally announce CSA's latest research initiative, the Software Defined Perimeter (SDP).
With Snowden removing all doubt of what security professionals thought to be true - that governments were ever-increasingly and continuously working with service providers as well as hacking their way into collecting information on a mass scale - there will be many sessions focused on protecting data from privacy invasions.  One of those sessions is Jon-Michael C. Brook, Former Cloud and Security Architect at Symantec, who has a session titled "Are US Cloud Service Providers Insecure – A Technical Look".
And of course, there is Big Data.  What would a technology conference be without Big Data being a core discussion area?  Big Data implementations are growing at a tremendous rate, and it certainly deserves the hot buzzword status people are giving it.  However, Big Data also creates whole new categories of security and data control concerns.  Guerra, Senior Associate, Booz Allen Hamilton has a session that I won't miss called, "Big Data, Big Security Questions – Securing Petabytes of Data"
Our own VP of Product Line Management, Derek Tumulak, will be participating in a panel on, "Managing Service Level Agreements with your Cloud Provider".  The panel takes place 1:15 PM – 2:15 PM as part of the Governance, Risk and Compliance Track on Wednesday, Dec 4.  Keep in mind that with PCI DSS 3.0 coming on line, weekly disclosures of cloud services outages/breaches as well as the occasional cloud provider failure this topic should be at the top of your list.
If you are attending CSA, please stop by the Vormetric booth during Expo hours on Wednesday and Thursday to say "hi." I would love to hear about the security problems you are trying to solve, and if you are participating in the expo, about the cool things you are showing.  If you have time, we have a slick demo of our Vormetric Data Firewall technology you should see as well.  It shows transparent encryption of structured and unstructured data; restriction of user access to that data (even restricting privileged user access) and delivery of security intelligence information compatible with Security Information and Event Management (SIEM) solutions like Splunk and HP ArcSight.  If you are interested, but not coming to the show, try out our cloud solution for yourself, we have a free AWS demo at www.vormetric.com/AWS-trial.