Vormetric was a platinum sponsor at the 2014 Gartner Security and Risk Summit, which is held in the Washington, DC area.  Since I run both Vormetric product marketing and analyst relations, it is a busy event.  I don't mind it being such a busy week because it is an awesome event!
Now that it is over, I thought I'd look back and reminisce in my blog.  I'm in the bar with everyone else taking care of end-of-show business – watching the World Cup!  The US just lost to Germany, but Portugal is up so the US will move on!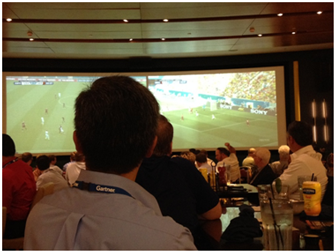 Now the rest of the summit news and views.  Jorge Lopez, Gartner VP distinguished analyst, had a great closing on the expected Internet of Things (IoT) explosion and discussed the concept of "digital business".  The growth is amazing. Gartner has a very conservative prediction of 30 billion devices connecting in just over 60 months from now.  To put that into perspective, there will be 7.3 billion personal devices connected by 2020.  "Digital business" will blur how we interact not only with each other but also inevery aspect of our lives with retailers, appliances, automobiles, government agencies, healthcare, etc.  It is equally exciting as it is terrifying.  The entire week of seminars from Gartner was full of IoT risk and security discussions.  Gartner will have over 100 analysts focused on all aspects of the IoT area going forward.
The other big topics were what you would expect, big data and cloud.  For cloud, Brian Lowans, shared a research question, "What is your number 1 Issue slowing adoption of public cloud computing?"  The response, "security and privacy" was five times higher than the #2 response.  With the adoption of these technologies, there is no shortage of growing risks and methods for controlling cloud data.  All ofthe sessions that I attended in securing cloud and big data were well attended.  I felt proud that Vormetric's name was dropped and included in the slides by so many analysts. Thank you Ramon Krikken, Neil MacDonald, Eric Ouellet, Erik Heidt, and perhaps others.
It is all about the data.  Between cloud, big data and now IoT, data growth-rates will only continue to accelerate. Earlier in the week, another great keynote was given by General Keith Alexander.  He shared the stat that, "3-5 zettabytes of data have been created this year – more than the last 5,000 years." That's a lot of data to protect. Especially as Joseph Feiman said, "The perimeter security, as we have enjoyed it for years, is no longer going to protect us because it has simply dissolved."  He believes it is best to encrypt, mask, tokenize or redact sensitive data to protect it.  He also had a great session on moving to secure application design.
I have to give a shout out and thank you to Kevin Peterson from McKesson.  Kevin shared with our Gartner audience how McKesson is moving to both public and private cloud solutions securely.  Encryption is an important part of their strategy, as McKesson's customers would not tolerate their data moving into the cloud if it wasn't encrypted – and neither would their lawyers!  I shared some of the more interesting results and differences between the US and Europe from Vormetric's research on insider threats.
I can go on for pages about the lectures.  I'll just add that there was a lot of talk about increasing visibility and detection through continuous monitoring, analytics, sharing threat data, etc.   Even Asheem Chandna from Greylock Partners saw this as a big and immediate opportunity. He sees "detection" and "prevention" as separate and delivered as different expertise and products.
I'm going to end this blog with the beginning of the summit.  After Sunday's USA's tie with Portugal I took the red eye from San Francisco to Dulles.  Monday morning I was really pleased with how sharp our booth looked.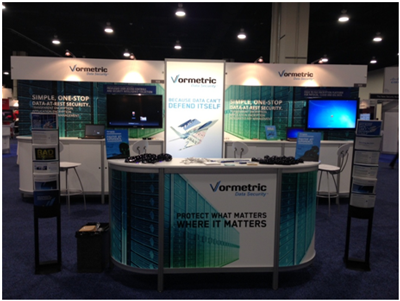 We had great traffic through our booth and met with existing customers and exciting prospects.  Many of the conversations were similar, "we are not encrypting our data-at-rest today and we know we are going to get burned,"  "we are investigating moving services to the public cloud and you keep coming up as the best solution to encrypt our data," "What is your performance with Cloudera…. MongoDB…. SAP HANA…?" "We are going through an audit."
If you have any questions, thoughts to share, or you would like the presentation that Kevin and I delivered at the event, please let me know with a tweet to @chvrles.