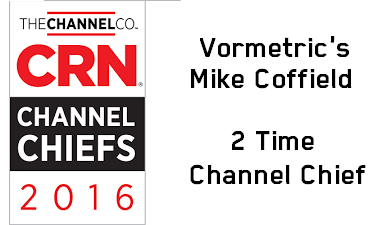 The CEO of the Channel Company, Robert Falerta said it best, "They [The CRN Channel Chiefs Award winners] represent an extraordinary group of individuals who lead by example and serve as both invaluable advocates and innovators of the IT channel. We applaud their incredible strides and look forward to following their accomplishments in the coming year."
Channel Chief honorees are selected by CRN's editorial staff on the basis of their professional achievements, standing in the industry, dedication to the channel partner community and strategies for driving future growth and innovation. Each of the 2016 Channel Chiefs demonstrate loyalty and ongoing support for the IT channel by consistently promoting, defending and executing outstanding channel partner programs. The executives on this annual list represent the leaders in the channel community and I can't think of a better honor to be included along some of the best and brightest in the industry.
ClickToTweet: Congratulations to Mike Coffield @Vormetric - Named 2x to #CRNChannelChiefs! http://bit.ly/1mTwDPc pic.twitter.com/wnP9d1hGsd
But don't worry, I am not just here to tout myself. This is so much bigger than myself. This is really about Vormetric and its strong partner program.
In fact, we take our channel program very seriously. 2014, we decided to take the plunge and announced that all Vormetric products were part of a single Data Security Platform sold through the channel. We've come a long way since 'going all in' in 2014 and have since grown channel revenue from 33% to 90% of Vormetric's total sales. And 'by all' we mean: Vormetric Transparent Encryption, Vormetric Application Encryption, and Vormetric Key Management, Vormetric Tokenization with Dynamic Data Masking, as well as our latest product offering, the Vormetric Cloud Encryption Gateway. Our channel program now lives and breathes by an all channel model. Winning the award for the second year running is a direct result of tireless efforts from our whole organization to create world class solutions and establish truly impressive partnerships.
The security landscape is becoming increasingly sophisticated. You know what that means? It means we need allies that can provide customers with cutting edge security solutions. Realizing the need to share knowledge with partners and their customers, partners gain access to a host of resources and enablement programs that maximize revenue opportunities; including an ecosystem of value-added resellers (VARs), value-added distributors (VADs), cloud and managed serviced providers, OEM partners, and technology companies who have partnered with Vormetric to deliver and support best-of-breed data security and compliance solutions. As a member of the Vormetric Cloud Program, we provide dedicated resources and support to assist members at generating a reoccurring stream of revenue. Core benefits include expanded program offerings, increased partner profitability and new training/tools.
While data security is complicated, we have an experienced group of channel partners that are well-versed in the most important data security variables, including compliance mandates and government regulation. By bringing forth business know-how (that can take years to acquire), our partners provide even more value to customers.
Done right, a channel partner program brings maximum returns from sales resources for the vendor, as well as financial and organizational success to partners. Successful, well rounded channel relationships allow both organizations to excel at what they do best. Making it possible for these successful relationships to develop and flourish is something that we at Vormetric are strongly committed to. As enterprise organizations strive to keep their data secure, it's more important than ever that our partners assist customers in maintaining the right levels of accessibility – all while leaving the door open for progress and innovation.
The 2016 CRN Channel Chiefs list is featured in the February 2016 issue of CRN and online at www.crn.com/channelchiefs