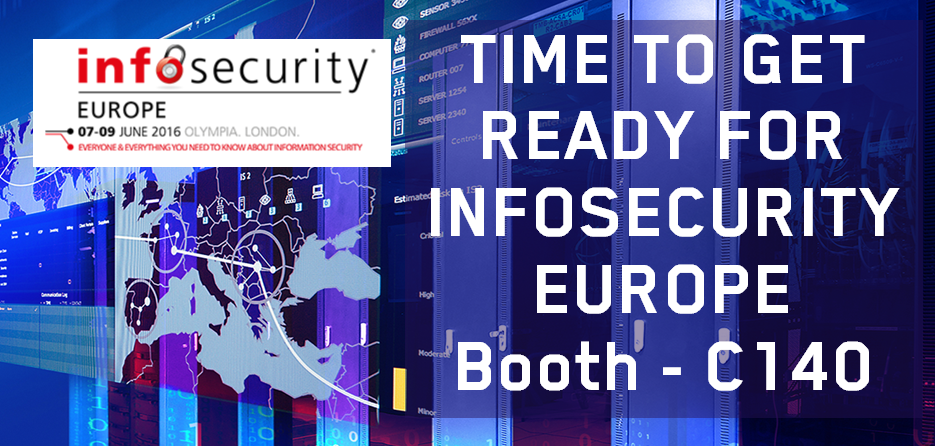 A week from today, security professionals from all over Europe – and beyond – will be amassing in West London for the annual Infosecurity Europe show.
There'll be plenty for us to talk about, too – in the last 12 months we have seen major incidents affecting firms like TalkTalk, JD Wetherspoon's and Ofcom, and the European Parliament has finally approved the General Data Protection Regulation (GDPR), set to come into play in 2018 – giving organisations only two years to achieve compliance or face strict punishments.
Click to Tweet: It's time to get ready for InfoSecurity Europe! #InfoSec16 bit.ly/1r1TJVK pic.twitter.com/4F92ql8kKN
Our experts will be on stand C140, adjacent to the networking bar, throughout the show to talk about how you can defend your data, while meeting increasingly strict regulations. You can find out about our new Live Data Transformation (LDT) solution on the stand too, which makes encrypting everything simpler than ever – with LDT, data can now be encrypted in place, without taking down business critical applications, transparently and 'behind-the-scenes'.
Throughout the event, there will be on-stand presentation from our experts:
Sol Cates - Vice President, Technology Strategy, Addressing the Shifting Sands of Data Protection Concerns.  Sol will be discussing the issues that are causing the greatest concerns, from brand reputation to revenue loss, and the impact of regional compliance mandates, such as GDPR. He'll be giving information on a three step programme which enables organisations to encrypt everything efficiently, across a multi-faceted environment.
Cloud Key Management - Jon Geater, CTO of Thales. On Tuesday afternoon, Jon will be hosting a speaker session on cloud key management, outlining some strategies and technologies you can adopt now to ensure your cloud migration gets off to the right start.
Neill Cooper - Into the Clouds: Fly High, Don't Fall Flat!  On how to ensure data is safe in cloud environments
Andy Kicklighter - The Results: Vormetric Data Threat Report, European Edition.  Find out what we learned about how your peers are protecting their data, what keeps them up at night, and how they are responding to threats against their data
We will also be talking about the results of our recent research into the issues affecting security professionals in Europe. The Vormetric European Data Threat Report (DTR) showed us that nearly one in five UK organisations has experienced a breach in the last year, so it is unsurprising that many are planning increased security spending in the next 12 months. However, the research also showed us that most are planning investments in tools like network and endpoint defences which have been proven to be ineffective against current threats to company data.
So come and say hello on stand C140 and discover how Vormetric can protect your data wherever it resides.