As a child, Sol Cates liked to learn how things worked by taking them apart. Computers piqued his interest for the same reason – he could use his hands to explore them and figure them out. Sol credits his constant curiosity for leading him into a cyber security career that now stretches past 20 years.
During that time, he has been a vendor, administrator, CISO, CTO, CIO, security analyst, developer, and architect, among other roles. Sol's current role as technology strategy vice president for Thales is a career highlight because it allows him the ability to solve the problems that he and his peers wrestle with every day.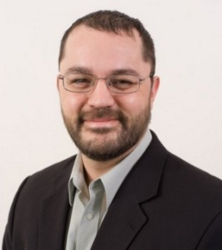 "It's very rewarding to understand a problem that your customers experience, and then design, build and innovate the right solution to the real problem," Sol says.
His childhood might have presaged one professional distinction he earned. At former employer Tripwire, Sol was awarded the inaugural and only MacGyver Award, a nod to his unconventional yet resourceful thinking.
"I hope it wasn't a comment on my coding style," Sol jokes.
Place of birth: San Gabriel, Calif., home of Wham-O Frisbees!
First job: Baling hay and picking blueberries at neighboring farms in Springfield, Ore. I still remember the sweet smell of fresh hay and the sour smell of overripe berries.
Number of cups of coffee I drink per day: Four cups on Mondays, two cups all other days, with Kombucha as needed.
Passion outside of work: Family, charity work for children's health, movies, vacationing, and being an amateur foodie.
What cyber-attack would you be and why?
Escalation of Privilege. Obtaining root/SYSTEM gives the attacker full access to the system, its data, and control. There isn't much you can't do with "root@localhost #."