March 8 is International Women's Day. With the theme #ChooseToChallenge, this year's celebration is important to the whole world as the challenge is to call out gender bias and inequality.
This day is also important for us at Thales for a very special reason. We are launching We in Thales (WiTh) UK, a network to promote the diversity and inclusion of all employees across Thales in the UK. The global WiTh network was established in 2018 to collaborate between genders, contribute to change attitudes, promote ideas, share experiences, create new perspectives and foster leadership and solidarity.
In addition to the launch of WiTh UK, we are commemorating IWD with a Q&A from our own Patricia Brailey, senior product manager, Transparent Encryption, and Rohini Deepak, senior manager, Strategic Initiatives. Here's what they told us: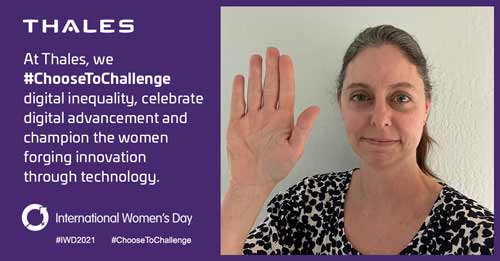 Q&A with Patricia Brailey
Q1: Reports have shown that women have been most affected by the current pandemic. The situation has resulted in job losses and reduced working hours as families struggle to cope with the lack of childcare. How has your life been affected, and how has your work and life balance changed?
Last spring when we first shut down, the kids were all home (I've got 4!), my husband was home, I was home…it was chaotic. I immediately informed my manager and team that I would be shifting my hours to start early so I could end early to start working with the little kids on their school assignments. Schooling last year was not good, and I can totally feel for the other moms and dads out there who have to be in this situation on a regular basis – it's really hard to help with school and work full time! I admit. I couldn't get to every assignment. I was stressed!
I was definitely having thoughts about leaving the work force, but the more I thought about it (and talked with other moms!), the more I realized that I could make things work. We all eventually fell into a routine again which I think is crucial for mental health, but I think we are all looking forward to the day when we can get back to the in-person routines too – I know I am!
Q2: The goal of gender equity in technology is to lead us to gender equality. In your opinion, are women still marginalized and discriminated against within cybersecurity? If yes, how do you think gender equality could be achieved?
One of the things that drew me to working at Thales was the number of women in tech roles. I am seeing more and more women in our engineering teams, customers, partners, sales teams, offices of the CTO…a variety of roles where technical know-how is required. I think it's great! I think that there is definitely less marginalizing and discrimination against women these days, although I still see it and even experience it from time to time. In some cases, I think the perpetrators don't even realize they are doing it. It's usually subtle, but it can still be frustrating (or worse).
The way we are going to get to true gender equality - and yes, I think we will get there eventually - is by having positive work experiences between genders. People's perceptions are often changed when they know more about the other side. The more women that can be in these roles and show others (not just the men, by the way) that they belong there, the better.
Diverse people are going to contribute in diverse ways and that is something that should be appreciated. So, when you see or experience these things, recognize them! Prop up that fellow woman, send kudos to the person's boss, or stand up for a woman who is being marginalized. It helps! As time goes on, the positive experiences will reshape our perceptions and we will get to a point where there isn't any question about equality between genders. At this point in my career (about 20 years in tech!), it gives me a sense of purpose to know that I might be helping with this effort.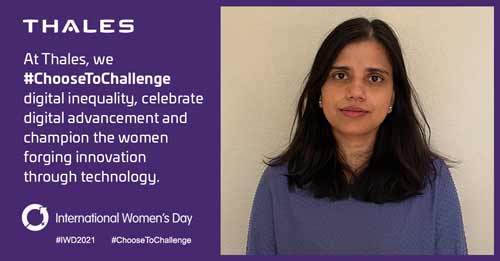 Q&A with Rohini Deepak
Q1: What is it like being a woman in the male-dominated field of engineering? Did you encounter gender equality or were you not taken seriously, perhaps even bypassed for a promotion?
When I started off as a software developer based in Singapore, the team that I joined had pretty good female representation. Gender inequality or bias was never an issue. When I moved to other roles in France and the US, I realized that there was an imbalance of varying degrees across those roles in the tech industry. To have balanced teams, there obviously is a need for the relevant talent pool. Hopefully, initiatives like Girls in Technology, Technovation Girls, STEM for Her etc. can help address that gap in the future. Regarding promotions/opportunities, I believe the key criteria should be the individual's capabilities and I have been quite fortunate on that front for the most part.
Q2: Data discrimination and algorithmic bias can perpetuate gender stereotypes and inequalities. How do you feel about this, and what do you think can be done to rebalance the bias?
Given the growing complexity of algorithms and vast amount of data collection, tackling algorithmic bias is very important. It's good that this is a topic that is now recognized and discussed. The first step towards solving an issue is acknowledging it, so at least things are headed in the right direction. While there isn't a straight-forward solution, it's clear that conscious effort and commitment is required to ensure that social bias is not amplified either by inheriting bias from the designers or by an over-reliance on historical data which could perpetuate further bias. Also, legal frameworks to tackle this would be an important step.
At Thales, we #ChooseToChallenge digital inequality, celebrate digital advancement and champion the women forging innovation through technology.
For more information on some to the key technology areas we are working on be sure to check out our Security Sessions podcast hosted by Neira Jones, who was named to SC Magazine's list of the UK's Most Influential Women in Cyber-Security 2019…among several other honors.