"Alone we can do so little; together we can do so much." - Helen Keller
At Thales, we couldn't be more excited about RSA Conference 2023. This year's theme "Stronger Together" echoes our company culture.
In cybersecurity, we are a community of many. Helen Keller's words are so important in our current environment of hyperconnectivity and evolving threats that demand collective action. We build on each other's diverse knowledge to exchange ideas, share our success stories, and learn from our failures. Only by working as a team and continually adding new perspectives can we affect progress, ensuring our defenses become more diverse, resolute, and far more effective in creating a safer world for our children and us. When collaboration is our foundation, the future is bright.
Live Sessions
With this in mind, we have scheduled a host of events and tech talks around our participation at RSA Conference 2023. Meet us at Booth #N-5369 for demonstrations on data security, customer and workforce identity, and post quantum cryptography – just to name a few. You can experience customer and partner presentations and learn more from one-on-one conversations with Thales experts.
By attending our live sessions at the Thales booth, you will learn how to:
Discover and classify your data wherever it resides.
Protect your sensitive data at rest, in motion, and in use.
Be in control of your encryption keys and their location, and how to control access to your sensitive data and digital services to comply with emerging data sovereignty requirements.
The informative booth sessions include Jason Keenaghan, Director of IAM Product Management, on 'Self-Sovereign Identity: Gateway to Privacy-First User Experience', a joint session with Microsoft and Sarah Lefavrais, Manager, IAM Product Marketing, on the 'Executive Order 14028 x Phishing Resistant Authentication = True Zero Trust'. Sarah will also present on FIDO2 Passkeys and the Future of Passwordless.
If it's Secrets Management for DevSecOps that you are interested in, pop into Efron Arie's live talk. Or, Victor Mendoza, our Principal Solutions Architect, on how to 'Achieve Data Sovereignty with CipherTrust'. Victor is also presenting with AWS in a session titled 'Bring Control, Trust and Transparency to AWS'.
Ransomware remains a hot topic, so don't miss 'Ransomware - Catch'em before they Wreak Havoc!', presented by Steven Gautier, Principal Solutions Architect.
Heading the CIAM team are Marco Venuti, Director of Business Acceleration, with his session on 'CIAM at the Heart of the Insurance Industry's Digital Transformation', Maarten Stultjens, VP, IAM Sales Acceleration with 'Pathway to CCPA: Learnings from Privacy by Design and GDPR', and Wouter de Wit, Senior Product Manager, IAM on 'Progressive Profiling: The Need to Gather First-Hand, High-Quality Profile Data in a Compliant Manner'.
Our action-packed live sessions will run every 20 to 30 minutes during all three conference days. The full live session schedule is available here.
Welcome to Your Thales LIVE Sessions @RSAC2023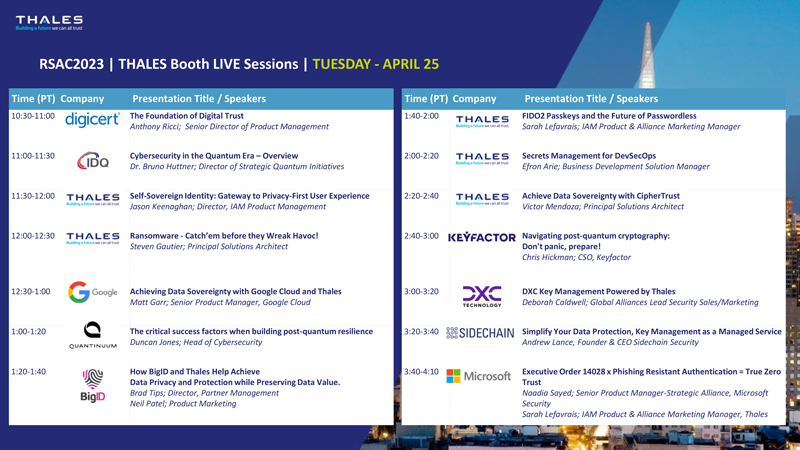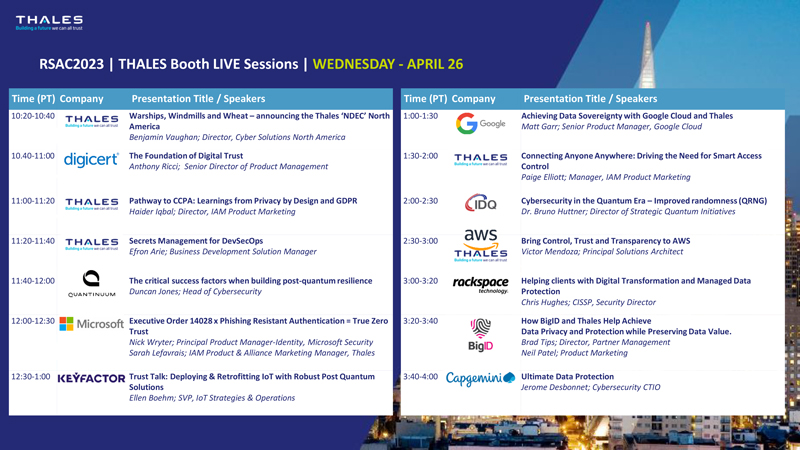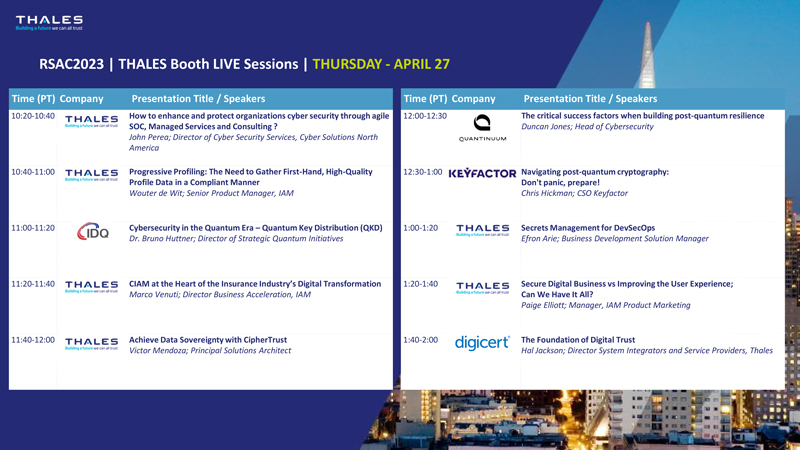 You can also schedule a personal demo or book 1-on-1 time with an expert in Data Security or Identity and Access Management.
Quantum Resistant Crypto Briefing
The proliferation of quantum computing will bring many exciting applications, but it also creates novel threats to data security and privacy. Security teams must build quantum resilience today to protect their business from emerging risks. According to the latest 2023 Thales Data Threat Report, 62% of respondents indicate that trends like "harvest now, decrypt later" is their most significant security concern regarding quantum computing.
Thales and Quantinuum have developed a joint plug-and-play integration to enhance cryptographic key generation without modifying existing infrastructure or applications. You can learn all about this solution as well as examine how this has been applied at Wells Fargo by attending our briefing on Quantum Resistant Cryptography on Wednesday, April 26, at 10:30 AM PT, in the North Hall Briefing Center.
Peter Bordow, Senior Vice President and Post-Quantum Cryptography, Quantum Systems & Emerging Technology Leader in Information and Cyber Security at Wells Fargo, Duncan Jones, Head of Cybersecurity, Quantinuum, and Todd Moore, Vice President, Data Security Products, Thales will present "A Case Study in Quantum Resistant Crypto: Wells Fargo."
PQC Palooza
On the same topic of quantum resilience, you can join us for drinks and snacks while enjoying conversation about quantum-safe enterprise-ready solutions.
Take advantage of the opportunity to listen to two of the cybersecurity industry's Post-Quantum Cryptography experts:
Peter Bordow, SVP, Distinguished Engineer and PQC/Quantum Systems & Emerging Technologies R&D Leader at Wells Fargo, and
Bob Burns, Chief Security Officer, Thales CPL - Quantum/PQC Strategist, and Director of Cloud and Product Security for CPL
The event will take place on Wednesday, April 26, between 4:00 and 7:00 PM PT, at the Thales Suite "Curator" on the 3rd floor of the Hyatt Regency Hotel. The hotel is located at 50 3rd St, San Francisco, a 5-minute walk from the Moscone Center. Space is limited, so please register today!
There's More!
Attendees of the live sessions will be entered into a raffle to win our new eFusion FIDO tokens and go passwordless! Winners will be announced throughout the day.
For the full itinerary and how to find us at Booth #N-5369, click here.
It's not too late to register for a free Expo Pass, enter the code 54STHALESXP when you REGISTER.
We look forward to seeing you!