Save the date for Safer Internet Day 2023, which will take place on Tuesday, 7 February 2023, the 20th edition of the campaign!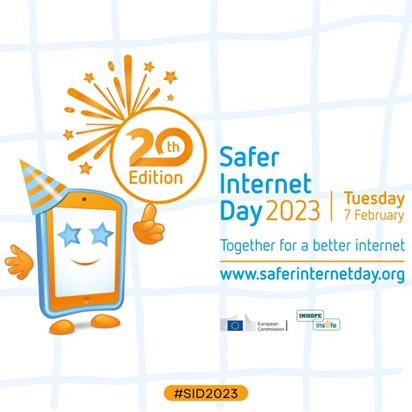 Safer Internet Day is marked every February in over 150 countries worldwide, with the theme of "Together for a better internet." Each year, it invites stakeholders to join forces and do their best to provide a better internet for children and young people.
Many cybersecurity professionals argue that families are essential to "making space for conversations about life online." This is especially important as our lives have become increasingly interconnected. Our kids use social media and messaging platforms to communicate with friends, play online games, or visit virtual classrooms. Besides the benefits and opportunities offered by the internet, dangers and risks are looming. It is, hence, important to sit down with your kids and loved ones and hold honest and open discussions about these online dangers.
Cyberbullying
Although bullying comes in many forms – verbal and physical – it is cyberbullying that is most dangerous since bullies leverage social media to damage the mental and psychological health of their victims. The consequences can be serious, but there are steps we can to make a difference. We should no longer be bystanders to cyberbullying phenomena. The best defense is to talk to family, teachers, or any other trusted adult and report any instance or suspicion of cyberbullying. Families can play an essential role in limiting the number of cyberbullying incidents.
Mis- and Disinformation
Mis- and disinformation is a fundamental societal issue that affects not only our kids but all members of a digital society. Misinformation tends to travel faster than truth and damages our perspective of the world as it is. Fighting mis- and disinformation is a serious discussion topic that needs to be addressed in family gatherings. Not everything we read online is true. Kids (like everyone else) need to develop that critical thinking to question the legitimacy of everything they read online. Who posted it? Where? How was it shared? Why was it published?
It is also important to highlight that misinformation can be used to launch cyber-attacks, like phishing emails or messages. It becomes even more crucial to distinguish deliberately wrong information and not fall for scammers asking to click a link to read it. You should always question yourself if what you read matches your knowledge about how things are. If unsure, it is always best to ask. Better safe than sorry.
Protect your online identity
Have you ever considered how many digital identities your kids may have? Identities for social media, online games, streaming services, and online classrooms are just a few examples. How do they protect all these identities? Do they understand the risks of identity theft and impersonation? Letting an attacker compromise your identity only takes one moment, one click.
This is the perfect moment to discuss the value of installing password managers and enhancing the protection of your identity with multi-factor authentication. Every online service now offers the option to enable MFA. Discuss with your kids that a slight delay in logging into your favorite game is nothing compared to the impact of a breached identity. Most MFA methods are designed with a user-friendly approach to make the login experience as smooth as possible.
Personal data protection
Closely related to protecting online identities is the topic of personal data protection. Besides the tools service providers employ to protect your data as required by various privacy and security legislations, kids and families have an essential role to play.
For one, a good practice is to limit the amount of personal data you share online. Fraudsters can use this seamlessly innocent information to launch phishing emails and trick you into clicking that link. Or they could impersonate you by creating fake social media accounts and posting harmful and inappropriate content. In addition, you could use various privacy-friendly tools available online, even for free, from well-respected and trusted organizations like Electronic Frontier Foundation to deprecate the use of cookies in your browser.
How can companies help?
Cybersecurity is an important topic not only for businesses but for families alike. Safe at home, safe at work, safe at school. Companies can do a lot to help their employees' families feel safer online. Holding a families' day where corporate security professionals talk to kids and other family members is a great idea that demonstrates that the company cares not only for its profit but also for the well-being of its employees and loved ones. The benefits are enormous for everyone; families and businesses working together for a better and safer internet.
Happy Safer Internet Day 2023!