Protect your data within your apps
Reduce security risks and bring trust to DevSecOps with Thales' developer-friendly data protection solutions. Thales helps harmonize developers, security architects and IT operations, and ensures the trustworthiness and integrity of software and containers on-premises, in the cloud or in hybrid environments as well as traditional or cloud-native software architectures. We do this by helping implement security at every stage of the DevSecOps cycle.
Get Developer-Friendly Data Protection Toolchains
Establish a Root of Trust for Your Applications
Improve Automation and Increase ROI for IT Operations
Easily automate the deployment of applications with crypto agile Luna HSMs and containerize your apps for fast deployment and management.
Increase ROI and reduces expenses by securing apps while using other elements of the CipherTrust Data Security Platform.
Explore Thales DevSecOps Resources
Latest Integrations
Learn more about our newest integrations
Languages and SDKs
for Your Development Environment
Supported Development Languages and Protocols
C# /.NET
Go
Python
REST
SOAP
OpenXML
Supported SDKs and Environments
PKCS#11
Java (JCE)
Microsoft CAPI/CSP
OpenSSL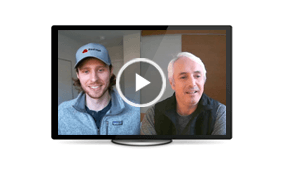 TalkingTrust Video: Thales and RedHat – Securing Containers and DevOps
Containers and DevOps are being embraced as critical elements of enterprise digital transformation strategies, as this new paradigm provides development teams with an efficient way to build and deploy applications across hybrid cloud environments at scale. Red Hat and Thales have partnered to enable the benefits of DevSecOps to ensure code runs securely and data can be protected effectively. Thales and Red Hat discuss in this video how to enable a secure and scalable DevOps platform to deploy new services efficiently.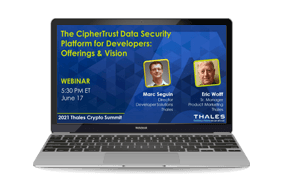 The CipherTrust Data Security Platform for Developers: Offerings and Vision
Software developers don't need to be crypto experts, or source, use, and store in dangerous places poor-quality keys. With CipherTrust Application Data Protection, devops gets a solution for integrating data protection into applications with a secure key source and repository, and then sending those applications into production. In this session, Eric Wolff will provide a quick introduction to the application-level data protection tools in the CipherTrust Data Security Platform, followed by a live conversation between Marc Segiun and Eric about the Thales vision for app-layer data protection.
Presented by:
Marc Seguin, Director of Developer Solutions, Thales; Eric Wolff, Senior Product Marketing Manager, Thales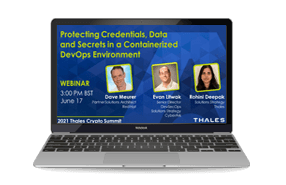 Protecting credentials, data, and secrets in a containerized DevOps environment
Industry leaders from CyberArk, Red Hat, and Thales will discuss how the strength of our portfolios come together to protect credentials, data, and secrets in modern containerized DevOps environments. Learn how the combination of Red Hat OpenShift Container Platform, CyberArk Conjur, CyberArk Privileged Access Manager, Thales CipherTrust Data Security Platform, and Thales Luna HSMs provide end-to-end encryption, secrets & key management for the DevOps community to build secure cloud-native applications.
Presented by:
Dave Meurer, Red Hat; Evan Litwak, CyberArk; Rohini Deepak, Senior Manager, Strategy, Thales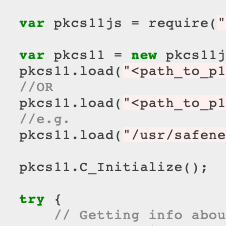 How to use the Luna HSM and DPoD Luna Cloud HSM Client with node.js
Interfacing with the Luna HSM and the Luna Cloud HSM service provided by DPoD requires a package called PKCS11js. The file index.d.ts provides a complete Javascript/Typescript API definition. A discussion of the full API is not presented here, however, index.d.ts is maintained by the pkcs11js author(s) and thus one should refer to it for any deficiencies or incompleteness in the use of the API here.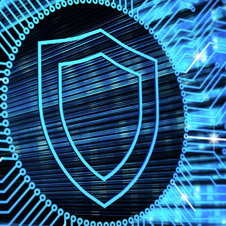 Using a Hardware Security Module with Hyperledger Fabric 1.2 SDK for Node.js
Hyperledger Fabric implements a permissioned distributed ledger. Each user owns a private key and a public certificate (that includes a public key) that will be used every time that he/she will create a transaction on the blockchain network. Blockchain node peers will check them to determine if this identity is allowed to execute smartcontract code on them.